UTSA alumnus Joaquin Guzman named an All-American Official by sports association | UTSA Today | UTSA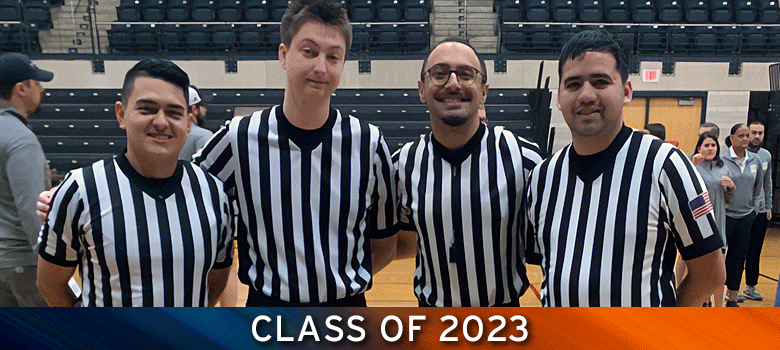 To be selected to officiate at the NIRSA National Basketball Championships, officials must receive a bid based on their performance at one of the NIRSA Regional Basketball Championships occurring throughout the nation. Whether regional or national, each tournament has an officials committee comprised of professionals in the field from various universities. Every student official is evaluated at each game, and the committee provides feedback to help students improve their future performance.
Guzman received a bid at the NIRSA Regional Basketball Championships held at the University of Missouri in February 2023. He finished as the top official in the tournament and was selected for nationals from around the United States along with two other UTSA student officials, Jared "E" Morris and Matthew Baham.
In April, at the NIRSA National Basketball Championships at the University of Maryland, Guzman officiated eight games in three days. Due to his excellent performance, the NIRSA officials committee selected him to officiate for the Men's Intramural National Championship game.
Following the game, NIRSA recognized Guzman as one of nine All-American Officials, from a total of 51 student officials that officiated at the National Basketball Championships.
"I am honored to receive this award but most importantly to represent UTSA," Guzman said.
Guzman is the third student from UTSA to receive NIRSA's All-American Honors following Adreanna Broussard in 2015 and Fernando Perez in 2022. He credits Michael Castaneda, assistant director of sport programs, and Cy Fondal, former sport program coordinator, for helping him achieve this honor.
"These two individuals have shaped me to be the best official and professional in and out of sport programs," Guzman said.