Top DFW Sports Teams, Music Venues and Fans Say They'd Support Legislation to Reform Current Ticketing System – NBC 5 Dallas-Fort Worth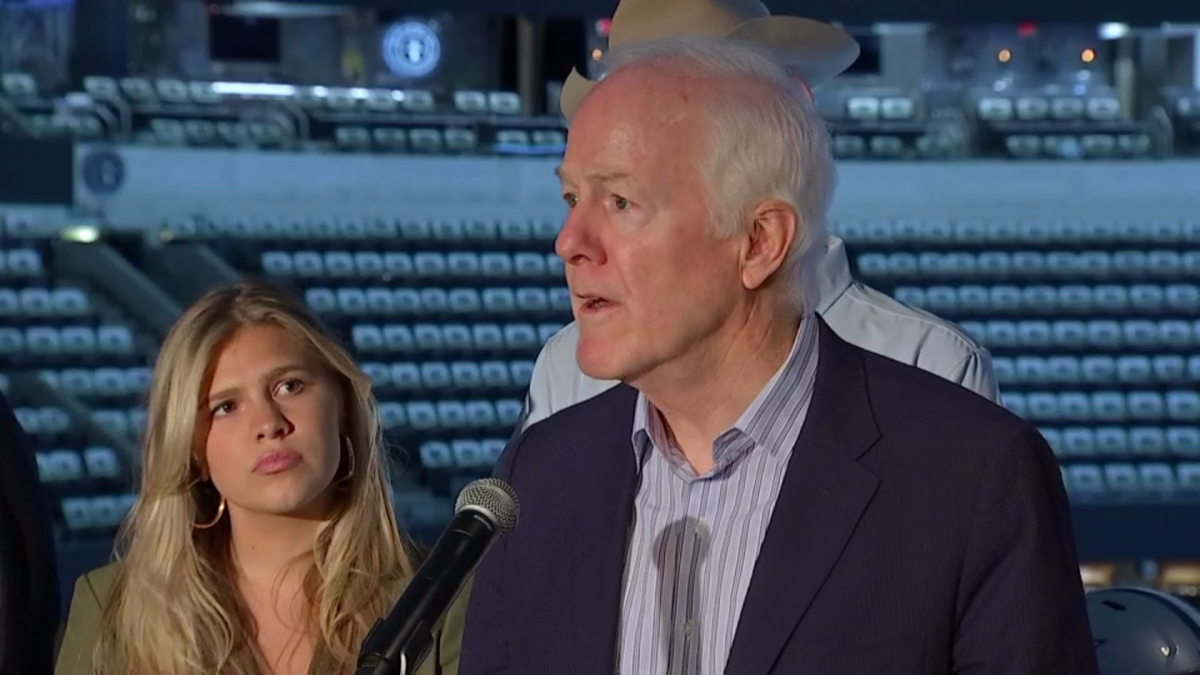 North Texans were amongst the millions of Taylor Swift fans frustrated when they couldn't get tickets to her most recent tour. The drama that unfolded shed light on a broader issue with ticketing systems for events and live performances.
The problem stems from bots, or automated programs, buying up a bunch of tickets and then reselling them for an exorbitant amount of money on secondary markets.
Thursday afternoon, U.S. Sen. John Cornyn (R-Texas) sat down with leaders from top D-FW sports teams and music venues to get their input as he crafts a piece of legislation to address the issue.
"These enterprises would not exist without the fans, so we've got to take care of the fans, and from a pure consumer protection standpoint, this is not something we should tolerate," said Cornyn who agreed the debacle that happened with tickets sales for Taylor Swift's "Eras Tour" was what brought attention to the topic. "All of this of course causes harm not only to the fans but to the performers who are actually trying to make the fan experience optimal."
Amongst the panel of executives included a Taylor Swift fan who also had a tough time getting tickets. Kate Testone, who is from Austin but is a junior at the University of Arkansas studying psychology, explained how she's been a Swiftie since she was 5-years-old, and was excited about the new tour.
"When we're talking about the 'Era's Tour', we're talking about the eras of Taylor's career, but for myself, this was the eras of my life and I grew up with her. Her music has been a huge part of my life," Testone said as she described the excitement amongst her and her friends about the new tour. "Unfortunately, we would not have been able to anticipate the challenges that getting tickets would present."
She described trouble with the long waiting lists, the site crashing and only finding tickets on secondary markets.
"I wasn't able to get anything but resale tickets, and so then you're looking at around $450 for an obstructed view, that means you're not even watching her perform, you're watching a jumbotron and then if you wanted to be in the upper bowl you're looking at $900, and as college students, we're not able to pay that. I certainly wasn't, I eat Raman for every meal, so certainly can't draw up $450 for a ticket," said Testone.
Cornyn said he's working on a piece of legislation, called FANS First Act, to curb these problems.
He said it would call for more transparency, requiring ticket vendors and resellers to disclose taxes, fees and refund policies to consumers.
It would also prohibit the use of bots to purchase tickets, prohibit speculative ticket sales that trick consumers into believing they are buying directly from an artist or venue and enact consequences for bad actors.
"One of the things we're looking at is enabling the Federal Trade Commission, FTC, which is a lot more nimble and able to address individual cases through agency action. So that's the primary means by which the enforcement or the consequences would be delivered," said Cornyn who also said the state Attorneys General could also impose civil penalties and create a reporting website for fan complaints.
He said he's working with Sen. Amy Klobuchar (D-MN) who he worked with in 2020 on the 'Save Our Stages' bill which helped provide SBA grants to live music venue operators who were impacted by the shutdown during the pandemic.
"This is a topic that has obviously captured the public's imagination, they understand it because many have had a bad experience with predatory ticket scalping, so I think the public is interested, and the visibility, the fact this is not a partisan issue, this is one where we're trying to protect the fans and protect the performers that it's something we ought to be able to get done," said Cornyn.
It's not only the fans who experience frustration, the artists and venues say they receive the backlash since people think they're the ones doing the price gauging when they're not.
Texas country music singer and songwriter Max Stalling explained it from his perspective.
"What happens is they're mad, they come to the show because they've already invested the money, and they stand there crossed-armed at the front of the stage and give me the stink eye all night because they think this guy is above his raising and how he's charging what should have been a $30 ticket, now it's a $60 ticket and, 'Oh by the way there's a $20 convenient fee that got tacked on at the end.' So not only have I lost this fan moving forward, but they also say to themselves, 'You know what? I'm not buying any of your stupid T-shirts, I'm not buying any of your other stupid merch that you have there that generates revenue,' so it's kind of a double whammy," said Stalling who believes legislation would be good.
Dave Brown, COO and General Manager at the American Airlines Center can be devastating for families who think they're about to enjoy an event.
"In hosting 60 to 70 major entertainment events a year, we see dozens of families coming to the box office with tickets that are fraudulent, families coming to the box office with tickets that have been misrepresented, tickets that they overpaid for and it's very little opportunity on a sold-out show to try and help them navigate that disappointment for their family," said Brown.
"We strive on taking care of our guests and we have control on most aspects on that, how our guests are taken care of, their safety, how they're treated when they come to the venue, but an element of our business has taken that control away and it makes it look bad for us, it becomes our problem, the artist problem and the reseller is nowhere to be found," explained Brown.
"Our team faces these issues with brokers, secondary ticketing, bots anytime that we're selling tickets for any one of our events certainly tonight is no different when you're in the Westerns Finals brokers are trying to get access to those tickets and market those tickets up at significantly higher prices," said Brad Alberts, President, Dallas Stars.
"These bots and the people behind them are the ones we've got to take care of and I think when that happens, we'll see a major difference," said Doug Dawson, SVP of Stadium Revenue, Dallas Cowboys who believes consequences are needed to see change.
Cornyn said the next step is to seek other bi-partisan co-sponsors, then file a bill in the Senate, then the Senate judiciary committee, get it to the Senate, and work with those in the House to get it to the president's desk.
Testone said she still can't shake it off that she missed the concert, but hopes her feedback from her experience helps.
"I felt like it was important because I think the fan's perspective, is why we're here, we call it fans first for a reason and as someone who was really disappointed not being able to go, I didn't want to repeat when the next tour comes out, I wanted this problem to be fixed," she said.
Last Friday Gov. Abbott signed Senate Bill 1639 that would prohibit bots from purchasing tickets.