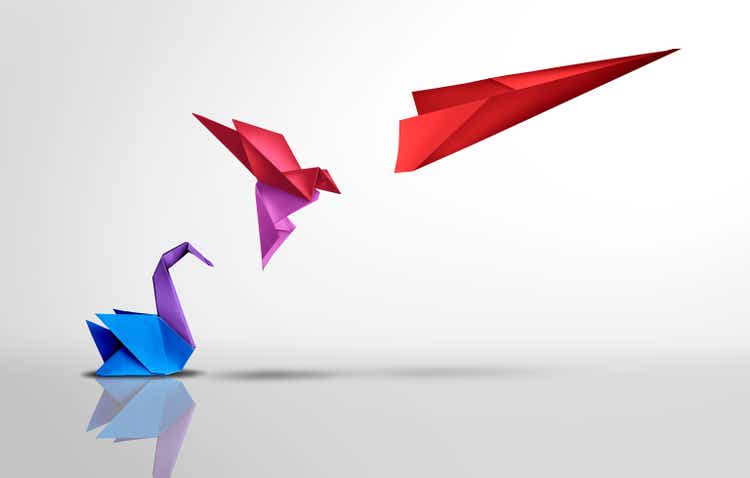 wildpixel/iStock via Getty Images
Description
My thesis for Flowserve (NYSE:FLS) continues to head toward the correct direction as 1Q23 come in stronger than expected and management raised FY23 guidance. Recall previously I mentioned that FLS is currently undergoing a transformation that will span several years and position the company for greater growth stability and higher returns over the long term. I have faith in the management team's ability to execute this plan and believe that the upward trend in commodity prices will support its progress. Management did not disappoint in 1Q23. FLS reported a healthy 1Q23 segment EBIT, with the company's success being driven by the Pumps division. Given the robust $2.6 billion in backlog, I think growth is fairly obvious going forward. In particular, management highlighted March 2023 growth as being stronger than anticipated due to the company's ability to ship more thanks to enhanced operational performance. All in, I believe the combination of a strong backlog and strong execution will lead FLS to achieving its FY23 guidance.
Backlog/Guidance
I believe the backlog remains very healthy as the company posted a booking of $1.06 billion, which represents the 5th consecutive quarter with backlog worth more than $1 billion. Also encouraging is that the book-to-bill ratio has remained at above 1x. Strong demand in the FCD and seals industries helped propel MRO and aftermarket bookings to near-record highs. One encouraging development is that management has noticed pent-up demand for deferred maintenance and is taking steps to position the company for faster growth than the market average. As a result, I anticipate that the book-to-bill ratio will continue to sustain at over 1x in FY23 thanks to the sustained growth in MRO and AM. Insights into strong demand can also be seen from 1Q23 earnings call, where management mentioned: "[They] are seeing significant investment in nuclear, LNG, fossil power plants and regional oil and gas developments, as countries look to become less dependent on unreliable foreign suppliers of energy." Hence, I think is a very positive outlook for demand that is likely to go on for the long-term as these investments generally have very long durations. In addition, margin within the overall backlog is better than it has been over the past couple of years, so I anticipate that FLS margin will improve as time goes on as well. The decision to pursue different projects that boost profits and margins is a primary factor. This ties back to my positive view on management ability to execute, in which they are driving growth and profitability, which will continue to drive earnings momentum. Since the backlog still contains legacy orders, the margin inflection will be gradual as higher margin orders make up a larger proportion of the mix. With such a solid order backlog and demand forecast, I have no doubt that FLS will be able to meet or exceed its increased FY23 guidance. To put the new guidance in perspective, sales growth of 10-12% is anticipated, up from 9-11% previously, resulting in EPS of $1.65-1.85. The massive backlog is the primary de-risking factor to FY23 guidance, as mentioned above. Furthermore, management has highlighted frictional costs in 2022, which, thanks to a reduction in price increases and a levelling off of lead times, should improve FLS's ability to convert its order book into revenue.
Other updates
Given the limited overlap in the two companies' product lines, I continue to view FLS's acquisition of Velan as strategic. It's important to note that FLS is still optimistic about reaching its $20 million run-rate cost synergies. However, given that the deal is scheduled to close in 3Q23, we won't be seeing any of the anticipated benefits anytime soon. I expect cost-cutting measures to be put into motion in 4Q23, with full effect coming in FY24, along with the extraction of synergies. With regards to cost savings, I note that FLS cost savings plan is also ahead of schedule, which is good news. For those who may have forgotten, management set a goal of saving between $5 and $10 million over five years, or $50 million in total, to mitigate the effects of inflation and boost technological investment. Financial benefits aside, I believe this 5-10 year cost saving plan will have a huge impact on operations as it is aimed to improve operational efficiency, which has led to an emphasis on getting things done and a simplification of internal processes that will help the company move more quickly.
Valuation
According to my model, the upside for FLS at the current level of 17x forward earnings is quite appealing. I believe the main reason for this opportunity exists because there is still uncertainty about FLS's ability to improve margins. If we look at consensus figures (which is the basis of my model numbers), net margin is expected to increase to 7.6% in FY25. FLS should be able to achieve this through its cost-cutting strategy, improved margin profile for new orders in the backlog, and expanding revenue base, which should help with SG&A leverage. When compared to its historical average, the 17x forward earnings multiple is also not expensive. As long as management meets expectations, I believe the share price will eventually reflect its intrinsic value.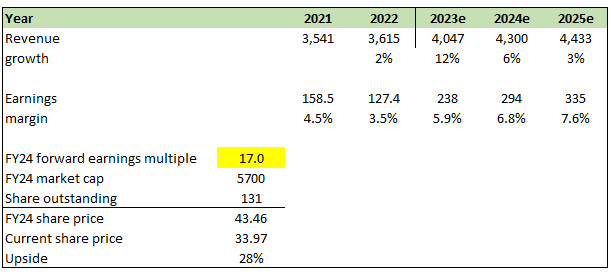 Summary
In conclusion, my thesis for FLS remains on track as 1Q23 results exceeded expectations and management raised FY23 guidance. The ongoing transformation of the company positions it for long-term growth stability and higher returns. Importantly, the healthy backlog and execution capabilities reduce the risk of missing FY23 guidance. The sustained growth in MRO and aftermarket bookings, along with the pent-up demand, support a positive outlook for long-term demand.